Peter Bowman does school author visits and other educational establishments, workshops, libraries and one to one tuition.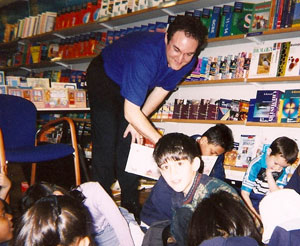 What the kid's have said about Pete!
What teachers have said about a visit from Pete Bowman
Peter is the Illustrator & Author of 104 children's picture books. The Just So stories, The Shell dragon, Amazing Maisy's Family tree, Is That What Friends Do, Grandpa Bodley & the Photographs, The Adventures of Tiny Ted and many many more.
The following guidelines and suggestions are in the hope they will be of benefit to all those involved.
Peter offers a full day package, with an interactive presentation which usually incorporates every class in school. Sessions usually last 30 - 60 minutes depending on the needs of each individual school. Most schools, naturally like all the pupils to get the opportunity of meeting an Author or Illustrator.In extended sessions Peter and the pupils will create a small pop-up card. (Peter has created 15 pop-up novelty books) The children get an insight how intricate paper engineering can be.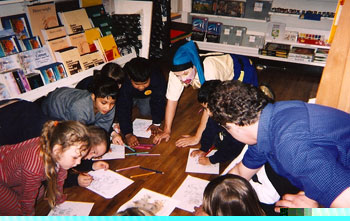 Why have an Author / Illustrator visit?
• To enthuse pupils about drawing, reading and writing.
• To allow pupils to meet a favourite Author / Illustrator
• To fit into a scheme of work, an ongoing school project or the start of a new one.
• To be able to tick the relevant National Curriculum box.
• To be part of a programme of events (eg World Book day or School book week)
• To gain from the experience, professionally and personally.
A guide to organising an Author visit
A visit from an author to school or library can be a very rewarding experience for all involved. Including teachers and pupils alike.
What the presentation consists of
An introduction about Peter's life as an illustrator, including early school drawings, showing the artistic devopment. A storyboard presentation, how to create a storybook, how to get your book published, working with publishers, art directors and editors.
Question and answer sessions, Peter will show a selection of his foreign edition books.
Peter demonstrating his drawing skills.
Booking information
Please contact Pete to discuss your school's requirements
Booking informBookingation
Booking information